_Po_:
Name of composition: Akwapo Green
Composition Type: Real perdy!
Creator: _Po_
Color/Effect: Aqua
The Composition (by weight): 3:4 meal:Zn powder with 5% dextrin
Any Precautions/Incompatabilities: Nope
Precedure/Preparation: 50/50 water/alcohol until workable, pumped, rolled or cut, no prime needed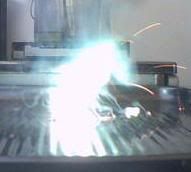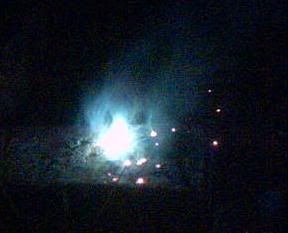 Here's a crappy .gif of a mix of aqua and C6 stars. It's kind of impossible to see them but they're the ones that go the highest:

Name of composition: Po's Silver Glitter
Composition Type: Glitter
Creator: _Po_
Color/Effect: White/sliver glitter
The Composition (by weight):
15- KMnO4
1.5- S
3- Al flake/shreds
Enough- NC Lacquer
Any Precautions/Incompatabilities: KMnO4/S/Al will be slightly sensitive and degrade over a long period of time
Precedure/Preparation: Mix with NC Lacquer until workable then form star shaped balls with your hands (remember to WEAR GLOVES unless you want brown poo-hands for a while), no prime needed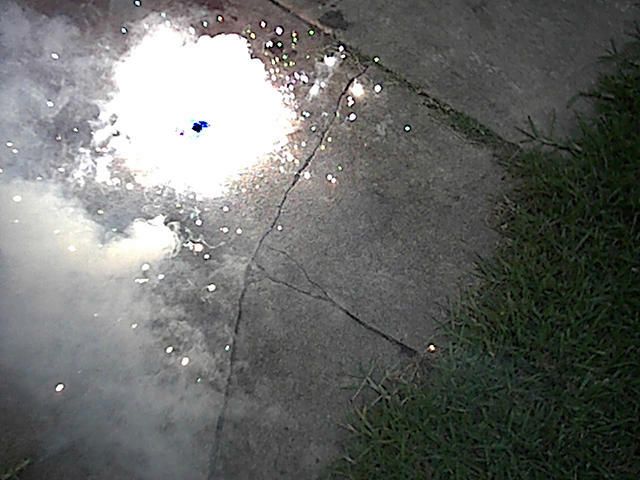 ++++++++++++++++++++++
6C_the_second:
Both of those look really good, I like the Akwapo Green more.
++++++++++++++++++++++
Frkonaleash1010:
I made a bunch of the Akwapa green mix and i was impressed with the color so I made some stars. They are loaded into a 2inch cylindrical shell right now just need to attach the lift and find a place to launch. I will 70% chance of getting a vid and if someone can get the frames we can put it into the comp Database with pics. If not I might be able to make a star mine with them cause IDK if my shell is actually gonna work.
++++++++++++++++++++++
Blindreeper:
Just get me the video and I will make the stills.
++++++++++++++++++++++++
_Po_:
Okay, I got a video of a 1" cylindrical shell with some aqua stars in it. It also had C6 though. It's easy to pick the aqua ones but it's not vewry good quality...
Video
I'll go and get some star gun shots soon.
+++++++++++++++++++++++++
Frkonaleash1010:
I can deffinitely vouch for the amazing Akwapo green stars. I just set off a 2inch cylindrical shell and I didn't put enough lift obviously but the shell went up and broke perfectly symetrical releasing akwapo green stars which seemed more blue than green. Shell burst low due to not enough lift so some hit the ground but it was amazing. These stars burn relatively slow so they dont need to be that big at all. Heh I am very happy.
++++++++++++++++++++++++
DB:
That shell's lauch sounded nice _Po_, how loud was it in real life? I'm going to do a shell with the Akwapo stars in the future, they look awesome. Good work _Po_!
++++++++++++++++++++++++
Sparkler:
"I just set off a 2inch cylindrical shell and I didn't put enough lift obviously but the shell went up and broke perfectly symetrical releasing akwapo green stars which seemed more blue than green."
The stars are supposed to be more blue than green. They are aqua. I belive akwapo is pronounced aqua-po
+++++++++++++++++++++++++++
Chaz:
Argh! Po I'm officially holding you responsible! LOOK WHAT YOU DID!:
Ok, so heres what happened. I made 7g of it, poured half of that onto a brick and lit it. Burnt nice and green. Then very foolishly, about 10 seconds later poured the rest onto the exact same spot on the brick. I was pouring it from a sheet of paper I was holding. Shwomf - it all ignites with my right hand bang in the centre of the flame.
Damn I'm a fool... Just joking about it being your fault BTW. Right now my hand is dunked in an ice bath. You have any idea how long it took to type this with my left hand?
+++
The pictures are pretty big so I linked them instead of having them directly in the thread. Sucks about your accident, at least it doesn't look too bad.
Speaking of accidents, I was biking home from work today and my friend I was biking with got hit by a car right in front of me! Luckily he isn't hurt too bad either, but his bike is totaled.
-EP
++++++++++++++++++++++++++++
Frkonaleash1010:
The thing I found about burns is to never put it in water. It makes it feel better but the second you take it out it hurts again. I find it better to go take asprin, ibuprofen, vicoden , or your pain killer of choice and just wait for it to stop hurting which wont take too long.
++++++++++++++++++++++++++++
andyboy:
That's just plain wrong. You need to cool it as much as possible, i don't mean that you should use dry ice though.
What happens is that your tissue heats up very fast but for a (most often) short period of time. The outer layer of your skins might get burned of, but the "leather-skin" - the second layer absorbs the heat. The absorbed heat continues to destroy the underlying tissue.
If you where to cool down the already damaged tissue the heat will not go as far down as it would otherwise do and you would save a lot of healing and hurting.
++++++++++++++++++++++++++++++
Frkonaleash1010:
yes cooling it down is one thing but I burnt my hand with Zn/S flash on accident and everytime I took it out of the water it hurt worse than the initial burn so I had to keep it in the ice water. Next time I just took some pain killers and put ice that was in a bag on top of it. I didn't dunk it in the Ice water. Then again I can half the skin on a finger falling off from that burn so maybe that was why the water hurt the skin/flesh.....
+++++++++++++++++++++++++++++
Chaz:
Its not as if it really matters. I'll take my hand out once I get bored or theres a danger of it freezing off
++++++++++++++++++++++++++
_Po_:
Finally some second...other opinions! Yeah, it's supposed to be blue more than green. That's what I liked about it. Also the reason it's called what it is. Akwapo is aqua Po, yeah.
So then, turns out it wasn't a contamination from something in the paint that made the blue colour. Chaz, you said it was green right? After learning it's not the paint making the blue I'm thinking it's something to do with either water or dextrin. Try making it into stars and see what colour it is.
Too bad about your supidity there, Chaz, it went and got your poor little thumb all burned up.
They only have to be small. I guess if they were bigger it would make a nice effect though. The last batch of them I made are 1.5mm x 5.5mm x 6.5mm and burn for 2.3 seconds. Pretty slow.
+++++++++++++++++++++++++++
Chaz:
Yeah the two piles I tried were definately green maybe with a slight tinge of yellow, but I did however do it in bright sunlight. In a pile it burnt pretty fast, 3g pile burnt in about 1 seconds. Of course it'll burn a lot slower when its a star.
+++++++++++++++++++++++++++++
Frkonaleash1010:
Rabid General had the same thing happen. When having the mix in a loose pile he said it was greenish with a tint of yellow. However once her made stars and sent them in the air aqua they were. I really dont understand because me and him used same mesh Zn and basically same BP and my mix burned aqua before making stars. But either way they still look aqua blue in the air or so he said.
+++++++++++++++++++++++++++++
Chaz:
I reckon its the dextrin messing with the colour. The piles I tested did not have any dextrin in them.
++++++++++++++++++++++++++++
Frkonaleash1010:
My piles that I lit were aqua blue.....That was before I added dextrin. I made 7g of the 3:4 mix 3g:4g. Burn aqua blue to me......Then I made a larger batch and added dextrin....still aqua.
++++++++++++++++++++++++++++
_Po_:
Dry mixed with the dextrin added makes a lime greeen too. So it's something to do with the activated dextrin...Meh, makes aqua so me happy.
+++++++++++++++++++++++++++